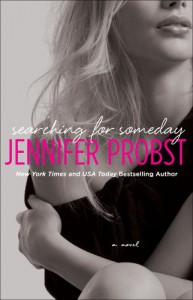 3 Sweet Stars
This is an ARC from Netgalley

The Summary -
In charming Verily, New York, Kate Seymour has a smashing success with Kinnections, the matchmaking service she owns with her two best girlfriends. But Kate's more than a savvy businesswoman: She's gifted with a secret power, a jolting touch that signals when love's magic is at work. It rocked her when she picked up a strange volume of love spells in the town's used bookstore . . . and it zapped her again when she encountered Slade Montgomery, the hot-tempered—and hot-bodied— divorce lawyer who storms into Kinnections demanding proof that playing Cupid won't destroy his vulnerable sister, Kate's newest client. The only way to convince this cynic that she's no fraud, and that love is no mirage, is for Kate to meet his audacious challenge: find him his dream woman. Can Kate keep their relationship strictly business when her electrifying attraction nearly knocked her off her feet? Or has the matchmaker finally met her match?

Ok, now down to business -
This was a fairly light read. It was headache inducing at times because of Kate's innate ability to piss me off with her stubborness which was taken to a whole new level. I love how she's overcome some difficulties in her life to become a strong woman that you can admire and look up to. She's the every woman and is really likeable as long as you aren't trying to initiate a relationship with her, then she's a major pain in the ass who needs a good swift kick in her forehead. Slade was a pain in the ass too, but not as badly as his soul mate with the magic touch.
The supernatural element of the book was a bit discouraging at first. Kate has this magic touch that she's used to set up couples. When she touches two people she's able to feel whether or not they belong together and are meant for each other. You know that forever kind of love. She grew up knowing about this gift but never believed in it. She also grew up with a stutter and was bullied and made fun of most of her life and never made friends until college. She found 2 great friends in her partners at her matchmaking company, Kinnections. They all were outcasts and they all found lifelong companionship and later created their successful company together.
Kate runs into Slade when he comes in demanding to speak with the manager of her company. He wants to discuss his sister's membership at the matchmaking business. He's afraid for his sister but goes in head first demanding answers in how the company works and ready to bring down the company if he sees that it's a scam to trick people out of their money. Since Kate is sworn to privacy about Slade's sister and the details of her membership, he decides to join to see what Kinnections is all about and to keep an eye on his sister and her progress in the dating arena. He's afraid she's going to try to kill herself again. He thinks she's fragile and that he needs to protect her all the time.
Well, Slade and Kate soon find out that they have a strong electrical charge when they touch. It's strong and overwhelming, but in a good way. That extra bit about the magic book feels like it was just thrown in for the hell of it, but I already get that it's going to tie the series together. I don't think it was even needed. Kate could do the magic pairing off with just her ability to be a good matchmaker. The book was forgotten for most of the series and just out of nowhere pops up. Again, it could be removed and nobody would be any wiser.
I've always liked Mrs. Probsts' writing. She's always got a way to bring about a HEA that makes you smile at the end and makes you feel good inside. The writing is good. The sex scenes are for adults, so keep this book away from children. Can't wait to read the next one.